In a week that saw a Twitter campaign successfully force Top Shop to remove two T-shirts from sale we take a casual look back at a few other T-shirts that have, and still do cause something of a rumpus when worn…
1. For those of you who haven't seen the Top Shop designs – the complaint being that both were at best degrading to women, and at worst trivialising domestic violence.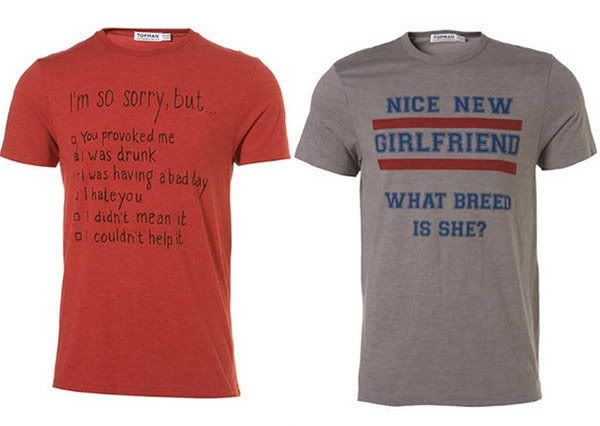 2. Seditionaires 'Cowboys' T-shirt – the now legendary Maclaren and Westwood design for their late 70's 'SEX' boutique. The design taken from a 1969 illustration by the US artist Jim French featured two semi-naked well endowed cowboys whose penises were touching
3. More from the Sex Pistols era, the iconic cover design to the bands 'Never Mind The Bollocks' album – record shops were raided and convicted, Maclaren appealed and won; however even today the design upsets many. In July 2006 a defendant stood in the dock at Bray Magistrates Court (Ireland) wearing the T-shirt; the judge wasn't impressed and sent him down the steps – he got 7days for contempt.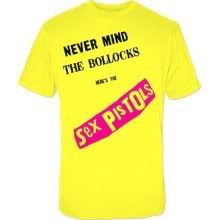 4. Obviously it's not just band/music based T-shirts that cause upset – declaring your political beliefs can get you into bother to. In October 2005, Lorrie Heasley, of Oregon, USA, was removed from a Southwest Airlines flight in for wearing a T-shirt displaying an image of George W. Bush, Dick Cheney, Michael Chertoff and Michael Brown with the caption "Meet the Fuckers," spoofing the film title 'Meet the Fockers'
5. 'Bollocks To Blair' – In September 2005 a girl was arrested for wearing her "Bollocks to Blair" T-shirt at the Midlands Game Fair; Charlotte Denis, 20, a gamekeeper from Gloucestershire, was stopped by police as she left the Countryside Alliance stand because of the "offensive" slogan. In 2006 two stall holders at the Norfolk Show were issued Penalty Fines for displaying the same T-shirt amongst their items for sale.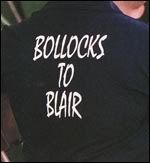 6. Fuck T-shirt – another design from the late 70's, the word Fuck being displayed in the Ford logo font. The then front-man of The Strangers was famously fined by a London council for wearing the T-shirt onstage
7. Cradle Of Filth 'Jesus Is A Cunt' – Arguably the most offensive T-shirt ever made available. Many wearers across the world have found themselves the subject of verbal and physical abuse, arrest, and subsequent fines. Cradle of Filth laughed all the way to the bank…
8. Goldblade 'Motherfucker' – In 2001 the bands US label Thick Records produced a 'Motherfucker' T-shirt to mark the track of the same name. New York based fan Casey Russell made a rapid purchase, only to lose his shirt and his liberty when he was grabbed by New York's finest whilst walking through Central Park.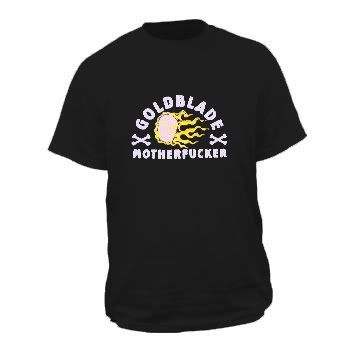 9. Mass arrests for wearing a T-shirt? Well that's what happened in Malaysia in June 2011, 14 anti Government protestors wear arrested for wearing Bershi (Clean) T-shirts as part of a demonstration against electoral abuses.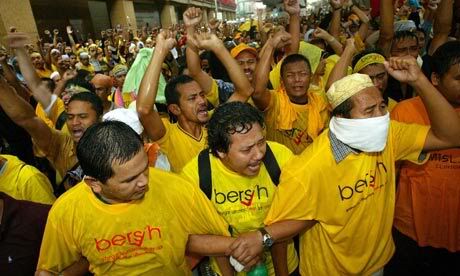 10. Transformers 'Robots in disguise' – you know the song… surely no harm in wearing a film tie-in T-shirt for a worldwide blockbuster. Wrong!! In June 2008 Brad Jayakody, 30, from London, said he was stopped from passing through security at Heathrow's Terminal 5 after his Transformers T-shirt was deemed 'offensive.' The IT consultant was set to fly off on a business trip to Dusseldorf in Germany when he was pulled to one side. Mr Jayakody said the first guard started joking with him about the Transformers character depicted on his French Connection T-shirt." Then he explains that since Megatron is holding a gun, I'm not allowed to fly,' he said. 'It's a 40ft tall cartoon robot with a gun as an arm. There is no way this shirt is offensive in any way, and what I'm going to use the shirt to pretend I have a gun? He was cooperative with the supervisor and took off the 'offensive' T-shirt, replacing it with another shirt in his carry on luggage
Any others, anyone reading who has been arrested/fined for wearing a T-shirt?