Time for a new job…
It was announced this week that Bad Religion front man Greg Graffin has accepted a position as a lecturer at US Ivy League institution Cornell University.
Graffin fronting Bad Religion
Graffin who holds a PhD in zoology has been enlisted to develop and teach a course in evolution studies
Graffin himself commented "This is the first year of three that I am slated to help develop the course and lecture at Cornell. I only have to lecture on Tuesdays and Thursdays. That leaves plenty of time to head overseas on the weekends!" In addition, Greg is being honoured with a newly discovered fossilized bird named after him. According to the Zoological Journal of the Linnean Society in London, paleontologists including Dr. Jingmai O'Connor, have discovered an ancient bird fossil in the Gansu Province of north-western China, and have named this important find Qiliania graffini in honor of the singer…
Which got me thinking; we are all aware of rock stars now sitting in their palatial mansions telling us how hard it was when they started out – when they worked the late shift at KFC, cleaned toilets at night, and stacked shelves by day etc
But what about those like Greg Graffin who have done things in reverse?
Well, we came up with this motley bunch; we haven't included any musicians who now ply their trade as actors/TV presenters, those careers are too closely linked – we have gone for those who only a 'U' turn would suffice…
Prof. Brian Cox – Arguably the most famous current ex-musician, certainly here in the UK. Cox graduated from The University of Manchester with a first-class honours degree and a MPhil degree, both in physics; whilst there he joined D:Ream who had a number of early 90's hits including 'Things Can Only Get Better' before disbanding in 1997. Cox returned to academia gaining a PhD in particle physics, before reappearring in the public eye as the current face of science on the BBC. Cox has since produced two television series and had a number of books published.
Kim Wilde – From pop princess to garden designer, and author of gardening books. Kim Wilde rode the top of the charts in the mid 80's, with tracks such as 'Kids In America' and a cover of The Supremes 'You Keep Me Hanging On' topping charts across the world. However her music career went into meltdown following a dispute when her label MCA was aquired by Universal Music. Wilde returned to an old passion – getting her hands dirty. She retrained at Capel Manor and then was picked as the face of CH4 TV's gardening show. Kim has since published two gadrening books, and holds an entry in the Guiness Book Of Records for successfully moving and replanting the worlds largest tree!! Her brother Marty Wilde Jnr is also a landscape gardener.
David Rowntree – Went from drumming for Blur to being an accredited Legal Representative. "Once when talking to some lawyer friends, asking them what their life was like, one of them suggested I should hang out at the Old Bailey. So I did, for two weeks…I shadowed a solicitor at a friend's criminal law firm – going to prisons and police stations, and absolutely loved it. It was a whole other world. I worked there while I was doing my legal training, representing people when they'd been arrested, I'm not sure the client knew I was the drummer from Blur, but I don't think they could have cared less: they're on trial for murder. They're not gonna care if it's bloody Mick Jagger.
Rev. Richard Coles – Coles made the leap from keyboard player with The Communards to joining the clergy! "I was a chorister when I was a kid, so I had breathed the atmosphere. But I'd always thought religion was all wicked nonsense. Suddenly I found myself attending church. I discovered that I needed it, as a human being. I'd done some broadcasting, where the fact that I'd been a pop star, wore glasses and played piano seemed to make people think I was a towering intellectual, but aged 30 I went to university to study theology, and eventually I got through selection as a priest. I actually think my pop past helps me all the time: you're performing all the time, the hours are long, people look at you funny, you dress up, and there's music. It's actually not dissimilar.
Peter Garrett – One time Midnight Oil vocalist, who in 2007 was confirmed as the Australian Government Enviroment Minister.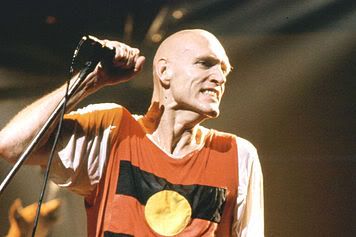 Garrett founded Midnight Oil when he was a law student in 1973, but the semi-punk rock group did not achieve global fame until its 1987 track "Beds are Burning" a impassioned protest song about Aboriginal land rights in his Australian homeland. In 1990, the year after the Exxon Valdez oil spill, the group staged an impromptu concert outside Exxon's New York headquarters with a banner that read, "Midnight Oil Makes You Dance, Exxon Oil Makes Us Sick." Garrett disbanded Midnight Oil in 2002 to concentrate on his political career.
Louise Wenner – Was the voice and face of Brit-pop darlings Sleeper, when the band broke up she returned to her first love books, and has since gone on to be a respected author "I actually wanted to write books first, but then music came along. I'd wanted to be in a band for so long but the rise and fall was disconcertingly swift… I worked on a solo album but my heart wasn't in it. I'd bought a secondhand electric typewriter and I used to tap away at the back of the recording studio, trying to wring out the beginnings of a novel…I'm much happier with the anonymity of writing. I think fame is a form of madness"
Terry Chimes – AKA Tory Crimes; Chimes was the drummer for The Clash, when arguably the band were at their peak, Chimes contributes all the drums on the bands first album, these days he is a respected chiropractor "As a kid, I preferred a microscope to a football for Christmas, but I got distracted by music and the option of joining the Clash seemed more fun than medical school. The punk scene was more about boozing than drugs, but I saw people deteriorating before my eyes and grew fed up with the arguments. I played with the Clash a second time when Topper Headon's drug use became a problem. Then, after the Clash, I played for Black Sabbath and Billy Idol. Once I was in Sun City with Black Sabbath and we went ten-pin bowling. After three hours, my shoulder locked up. They said they would find a chiropractor. This guy came in, cracked all my joints and I could move my arm again. It made a big impression."
Charlie Higson – Between 1980-1986 Higson was the singer for East Anglian indie boys The Higsons. He is now a widely respected author of childrens novels and in particular the 'Young James Bond' series. Whilst at the University of East Anglia Higson met amongst other Paul Whitehouse, when Higsons folded Higson was invited by Whitehouse to write for a sketch show he was making with friend Harry Enfield. Higson clearly enjoyed writing and went on to publish four novels through the early to mid 1990s which take a slightly dystopian look at everyday life and have a considerably more adult tone than his other work, with characters on the margins of society finding themselves spiraling out of control, leading him to be described by Time Out as 'The missing link between Dick Emery and Brett Easton Ellis"
Amelia Fletcher – Was the singer with twee indie pop favoutites Tallulah Gosh, now she is the Chief Ecconimist at The Office of Fair Trading no less. "I basically carried on my education so I could keep doing the band. I was studying philosophy and economics at Oxford when I was in Talulah Gosh and can remember asking for quiet rooms so I could do essays after soundchecks…I did a masters, then a doctorate and by the end I was hugely overqualified. At that point I didn't think that I wanted to be an economist, but the qualifications I had pretty much meant I had to become one" Fletcher however has not entirely abandoned music as she remains a member of Tender Trap.
Peter Momtchtiloff – Not only does Peter have an unpronouncable name, he to has an impressive job… Peter was the guitarist for Tallulah Gosh – Do they win an award for the smartest band ever? He now earns a living as the Senior Commissioning Editor at the Oxford University Press "I was never that career-minded, in music or anything else. Like most of my friends at Oxford, I'd just coast along. You didn't come out of university in debt like you do now. I got by on the dole and then I got a job in a record shop, where I met Amelia, and we formed the band. I did some freelance copy editing from home for two years so I could do music and go on tour. Eventually I joined the Oxford University Press as a desk editor and worked my way up. Now I publish philosophy books – talking to potential authors and working out who would be good to publish. I've been called 'the world's most influential voice in philosophy publishing' in the Economist, but it was probably one of my friends who said that"
Peter Wishart – The clue was in the band, Wishart was the guitarist for Runrig, a band never shy in expressing their political beliefs. Peter is now the Scottish Nationalist Party MP for Perth "Runrig were a political band, which suited me as I had a strong trades-union and student politics background. Where other bands discussed sex and drugs, Runrig debated the Scottish constitutional question. When our former singer Donnie Munro stood for election in the late 90s and almost succeeded, the SNP leader Alex Salmond encouraged me to have a go. I knew entering politics would mean leaving the band, but I was approaching 40 and was ready for a new challenge. I was elected in 2001, although I still play in parliamentary rock band MP4. People often say politics is show business for ugly people, and there is a lot in that statement"

Any more? Let us know…
Share and comment