The Melvins "˜Sugar Daddy Live'
Ipecac Recordings IPC126 (via Southern)
Available now
Over the years The Melvins have amongst other things been described as "the godfathers of grunge"; they were also the band that in mid 1983 rejected Kurt Cobain when he auditioned to join his high school friends, and Melvins mainstays Buzz Osborne AKA King Buzzo and Dale Crover. Cobain didn't hold it against his friends, he remained in close contact with them right up to his death in 1994, in-fact Crover played drums on the Nirvana demo which formed the basis of their "˜Bleach' album. With the later transformation of Nirvana into a multi million selling colossus, and Cobain's active support of his friends, other musicians linked to them reaped the rewards; The Melvins were arguably signed to Atlantic Records on the back of the association and the column inches generated.
Osborne is also responsible for introducing Cobain and Novoselic to Dave Grohl, early Melvins member Matt Lukin subsequently formed Mudhoney, and Japanese experimentalists Boris (LTW review) took their name from a Melvins track "" so as can be seen The Melvins certainly merit their page in the rock almanac.
Since their first release back in 1986 The Melvins have released countless albums, including 10 live recordings, covering a range of genres, on all manner of labels, in all manner of countries "" they have however, bar Buzzo and Crover had all manner of interchangeable line-ups, as such it is not really possible to describe any one release as "˜the definitive Melvins'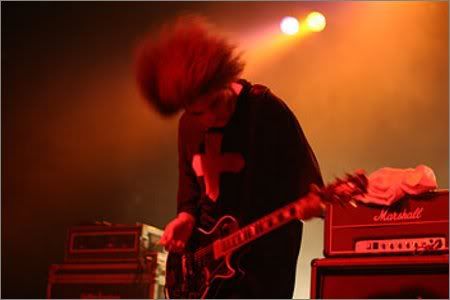 So what we get here on "˜Sugar Daddy Live' is a snap shot of The Melvins at the current time; the material featured is largely drawn from their three most recent and certainly most uncompromising releases. We all know "˜live' albums can be hit or miss affairs, with "˜Sugar Daddy Live' we get a studio quality recording that captures the true power of a genuinely inventive and still inspirational band that belies their longevity.
The 13trk album was recorded during a sell-out show at the "˜Busta-Gut Club' in Downey, California, however The Melvins at some point must of considered that they might never see the boardwalks of Cali again "" they were touring New Zealand in February 2011 when the devastating earthquake hit Christchurch, having escaped that one they were then present in Japan when first the earthquake, and then the tsunami ravaged the country. Osborne commenting "I've go to be in some sort of weird club"¦" before confirming that he was also present in 1994 when a magnitude 6.7 quake hit Northridge, California.
Perhaps it's these glimpses of their own possible demise that spurs The Melvins to play with such intensity, and thankfully it's an intensity that has been captured within this recording; crank this up and you really feel like you were present.
Opening track "˜Nude With Boots' really dictates quite where Buzzo and Co. intended to take their audience that night, the twin drum assault threatens to pummel the crowd, but is held in check by the twin vocals before cutting into "˜Dog Island' with its super heavy bass riff and ear shredding guitar which concede only to the vocals once more "" its no dis-service to state that the vocals are surprisingly clear and are what lifts each track from much of the more familiar grunge peddled by lesser acts.
"˜Civilised Worm' is looser, but upbeat, and with a sing-a-long chorus "" think Bad Brains, and then it's "˜The Kicking Machine' which grows more powerful as it unfolds; these tracks have a life of there own, they literally impose themselves upon you, much more so that the initial studio recordings "" however nothing will prepare you for the speed metal of "˜Rat Faced Granny'; this feels like you have just been punched in the face, though in a masochistic style you demand more of the same, and that's just what you get; "˜The Hawk', "˜You've Never Been Right' and "˜A History Of Bad Men' are unrelenting sludge driven monsters, you can only imagine the flailing drum sticks, not to mention hair that accompanied this exhausting display!
Then in true Melvins fashion "" reinvention; we are offered an a cappella version of "˜Star Spangled Banner' that left me somewhat bemused; quite what those present on the night were thinking is anybody's guess, before set closer 12 minutes of the incomparable feedback drenched "˜Boris' – this is huge, this is scary, its monstrous and is perhaps the very definition of The Melvins.
They have now been around for 25 or so years; "˜Sugar Daddy Live' demonstrates that Buzzo and Crover have perhaps finally crafted the most stable and therefore most indomitable line-up to date.
There are plans to tour Europe including the UK before the year is out "" barring any further natural disasters.
01. Nude With Boots
02. Dog Island
03. Dies Iraea
04. Civilized Worm
05. The Kicking Machine
06. Eye Flies
07. Tipping The Lion
08. Rat Faced Granny
09. The Hawk
10. You've Never Been Right
11. A History of Bad Men
12. Star Spangled Banner
13. Boris