Long Division Festival
Various venues in Wakefield
Saturday 11th June 2011
Cath Aubergine for Louder Than War
Over the past few years there's been a proliferation in the number of city-based walkabout festivals – you know the sort of thing, you buy a wristband which gives you access to a number of venues within reasonable walking distance of each other and then spend the day (or sometimes weekend) going to as many gigs as is humanly possible.
I've tried most of the big ones – Dot to Dot in Manchester and Nottingham, Great Escape in Brighton, Live At Leeds (where the location of the Brudenell Social Club stretches the concept of "reasonable walking distance" but nobody minds because it's such a great venue) and even Hamburg's Reeperbahn Festival (where it pissed it down the whole weekend, but we managed to see 20 great sets over two days so no complaints) – this is a new one, though. This is the first ever Long Division Festival and the location is… Wakefield.
The venues comprise four bars, the cathedral and the Town Hall. And the tickets are just 12 quid. For which you would be forgiven for expecting a line-up of local bands you've never heard of (not that this is in any way a bad thing – that's often where you find real gems) – but here Long Division punches well above its weight with indie legends The Wedding Present, NME darlings Darwin Deez, plus established artists such as Emmy the Great, I Like Trains and Los Campesinos and some hot names including Spectrals and Dinosaur Pile-Up. But we're going to start off with a couple of those local bands we've never heard of, because past experience has taught us there are often some very juicy worms for the early birds at these things…
We head for HENRY BOON'S, which turns out to be a really nice pub done up in the old ropes/barrels/sacks of hops style, and first band of the day PENGUIN are playing when we get there. This local trio definitely like their Biffy Clyro and make a decent job of similarly indie-tinged post-hardcore modern alternative rock. Really good quality songwriting and musicianship, and they're so bloody young! Shouldn't they be doing A-levels or something? And does the drummer's mum know about all those tattoos? Seriously though there's definite potential here.
Penguin
We're watching IMP setting up and we can't even begin to hazard a guess what a bearded, tattooed, wide-brim-hatted drummer (in Alice Cooper t-shirt); mod-haired seated keyboard player frontman and scrawny slacker-indie guitar-bass duo might sound like. The answer seems to be the missing link between organ-led garage psychedelia and early Pavement, which makes for a rather interesting and very enjoyable half hour. Keyboard man and bassist both sing, or at least kind of mumble and shout at each other. They're spectacularly vague, too, eschewing a set-list in favour of what looks like on-the-spot decisions as to what to play next. And by the end of their half hour I've decided they're fucking brilliant…
Imp
We already know that THE LOVELY EGGS are brilliant, although I concede that their in-your-face lo-fi punky indiepop whose lyrics are an odd mixture of the very down-to-earth and the poetically surreal, sung in a very strong Lancaster accent, is not for everyone. The Lovely Eggs are called Holly and David and are basically the coolest girl in the school indie club and her cute little fruit-bowl-haired boyfriend, fast-forwarded into their early thirties but showing no signs whatsoever of "growing up" in the boring sense. Their first song is called "People Are Twats", they're pleased they've got an early slot so they can go out on the lash afterwards, and with their popularity increasing by the day at the moment thanks to some 6Music attention the pub's rammed already. Their current single however won't be seeing many radio plays, though, being a pretty little ballad called "Fuck It". Its chorus goes "Fuck it, oh yeah, fuck it / fuck it, oh yeah, fuck it". Can't argue with that. Later on, the truly deranged "Have You Ever Heard a Digital Accordion?" rhymes the titular object with "Richard Brautigan" and "deadly scorpion", amongst other generally unconnected things. They're a bit mad, possibly slightly drunk, wonderfully friendly and great fun.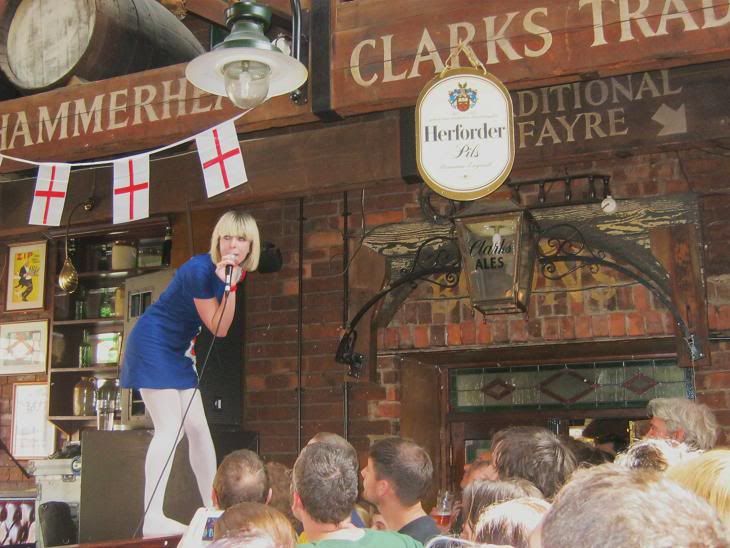 The Lovely Eggs
We can't stay in one pub all day, though, however nice it may be: time to check out the biggest venue on the schedule. MUSTANGS – or indeed Mustang Sally's as it's sometimes still listed – is the worst kind of theme/chain type bar, more normally the stomping-ground of radioactive-looking tans and microskirts for the girls and smart casual wear and hair gel for the boys. The toilets are labelled "Cowboys" and "Cowgirls", they sell cocktails in bowls with straws, and we'd rather not think about the cages either side of the stage.
It's probably fair to say that THE WIND-UP BIRDS frequent this kind of establishment about as much as we do. My mate who's seen them before describes them beforehand as "a Yorkshire Fall" and he's not wrong, if we're talking very early, musically somewhat rudimentary Fall – or indeed a number of other bands from 1978 where the vocalist kind of spouts as opposed to singing, unleashing streams of intelligent acerbic Northernness while guitar, bass and drums bash off four chords. More recently, Art Brut would spring to mind. The singer is even reading some of his lyrics off paper, and we particularly love the one where in place of an instrumental solo the bassist la-la-la's it. "Sometimes two people in a room like us" – actually it's probably a good few more than that today given that most of the crowd in here at this point are about 40 and treating this mostly as a Wedding Present gig with a day-long support bill.
We, however, have other venues to check out – the TOWN HALL for example. Uniformed ushers point us up lavishly carpeted stairs into what looks like the sort of chandeliered function room more normally associated with wedding dos, only on the stage is a bizarre turquoise plastic box with a small keyboard… and it gradually dawns on us it IS a digital accordion.We spot Lovely Eggs across the room, it's probably made their day! It belongs to MI MYE, a rather large, gruff Scotsman called Jamie Lockhart in a frightening cardigan, and he and his two co-conspirators come across like a rougher, stripped-down Phantom Band: a bit folky (in the Wicker Man sense as opposed to the Mumford sense), a bit unsettling.
Mi Mye
THE BIRTHDAY KISS apparently "formed in 2011 on a Megabus" and involve someone who used to be in The Research, one of the great many Yorkshire indie bands briefly tipped in the mid-00s. They do nice enough tuneful indie pop, nothing to scare the horses, nothing you've not heard before a million times – but they keep it short and sweet (the songs and the set itself) and it's certainly preferable to watching Darwin Deez who's on at Mustangs at this point. For me, anyway.
Birthday Kiss
"It's amazing to play in a room like this" says I LIKE TRAINS' Dave Martin. Taking the spirit of DIY firmly in both hands they have played across Europe in 2011 in support of the album they made and released without any sort of record label backing, an album loved by fans and acclaimed by critics. And whilst Dave and his bandmates hail originally from various places, the band formed and are still based in Leeds; this is almost a triumphant homecoming. Mixing the shifting soundscapes of post-rock with gloomy, downbeat post-punk atmospherics they've been consistently excellent live this year, the core foursome augmented by an extra guitarist (formerly of Redjetson) for live appearances allowing them to build even more layers into their beautiful if rather bleak sound. Sometimes it's sparse and fragile, like early single "A Rook House For Bobby" – the chilling imagined testimony of disintegrating chess master Bobby Fischer – while elsewhere ("Terra Nova", lyrically based on Captain Scott's final diary entries, or the lament for environmental catastrophe that is their epic standout single "Sea Of Regrets") they pile on the guitar effects into a great swirling mass. We meet a girl who has travelled all the way from France to see them. They're that sort of band – a combination of substance and sound that inspires devotion. We hope she's enjoying Wakefield as much as we are.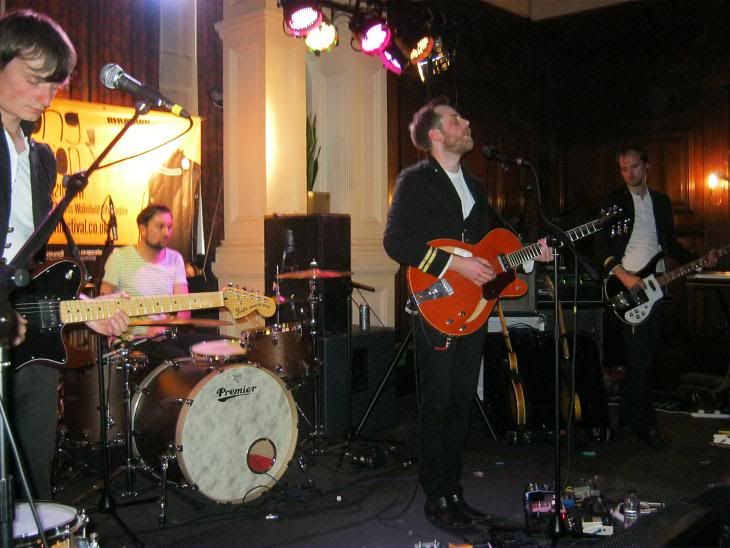 Back to nasty glitzy Mustangs it is, then, to see what has become of THE WEDDING PRESENT. It's impossible to overestimate just how much The Wedding Present meant to me and thousands of other late-80s teenagers; this, of course, is not quite that band, their list of past alumni now reaching almost Fall-like proportions and with the recent departure of long-serving bassist Terry de Castro I honestly couldn't name a member besides David Gedge himself. There are generally two distinct camps of opinion when it comes to all these old bands with only one original member still doing their old songs: "they're nothing but a cash-in self-tribute act and shouldn't be allowed" and "who cares, it's good to hear those old tunes again". Personally I subscribe to both and neither: to quote a review I recently wrote elsewhere of Dean Wareham's current (and truly wonderful) Galaxie 500 revival set, "elitism, arguments about authenticity and the valid counter-arguments about anyone's right to play songs they wrote are all irrelevant when you're actually watching it: the music is what matters". The only expectation is you can have no expectations.
Still, even with that in mind I never expected to see The Wedding Present introduced by a cheesy compere. Maybe he just comes free with the venue, like some cut-price Dale Winton; this should be a warning as to what's to come. Some of which is the band's fault, and some of which is not. From the off they're hindered by absolutely terrible sound: bass too high, guitars barely audible – I guess this place is more used to X-Factor types doing vocal PAs than real live bands with instruments – but it's not just that. Despite the set being front-loaded with old classics – Festive Fifty hit "My Favourite Dress"; C86 highlight "This Boy Can Wait"; the heartbreaking "Health And Efficiency" from Gedge's 90s Cinerama days – half the time I'm struggling to even recognise them. At best they sound like the band I knew and loved on a really, really bad day; at worst it could be a "bunch of mates mucking about" covers band. I loved these songs, I lived them, I wrote the words on my hands and my pencil case, and it pains me to write this: a friend unfamiliar with the band in their heyday is looking at me as if to say "you liked this?" whilst other friends who have seen the 21st century version rather more times than I have are quick to point out they they are usually a whole lot better. A couple of them leave. I wanted to love it, to be a teenager again just like I felt when watching Dean Wareham, but this just isn't working on any level.
Some people are having a good dance and jump around, though – which is clearly a problem for the bouncers of this unaccustomed venue. One bloke doing nothing more than a spot of very light pogoing is grabbed by the shoulders and despatched towards the exit. Others are pulled away from the front of the stage and any dissent seems to be treated as a chucking-out offence. I'll admit I didn't actually see everything, but I find it rather hard to believe that a crowd largely (down the front, at least) comprising balding 40-year-old indie fans was doing anything genuinely troublesome; the staff of Mustang's (with its hideous fake cacti and posters of leggy models dressed as unconvincing cowgirls) seem to disagree and the gig is stopped in its tracks. Gedge admits over the microphone he has no idea exactly what's happening. Eventually one of the event promoters steps up, full of apologies: the security have now themselves been thrown out. "I think it's a case of a clash of two cultures here isn't it" muses Gedge as the band finally return; "this isn't really a place for an alternative rock concert." And suddenly the solidarity of our people, the music fans against the world, overrides the fact that the band aren't as good as they could be. "Dalliance" sounds almost as good as the original; maybe they just needed that punk spirit back.
As they finish, the venue's DJ can't get the chart pop on fast enough, as if to flush the unwanted music fans from their hideous palace of cheap glitz as quickly as possible; as we leave in our T-shirts and jeans and combats and coats there's a massive queue outside – glowing tans heaved into too-tiny clothes, hair ironed to within an inch of its life flopping over faces effectively daubed on, the odd souvenir from the week's Take That reunion on some of the older ones. Mustang Sally's regulars out for their big Saturday night out with their neanderthal security. Just the weirdest end to a night ever, really.
For the most part though, Long Division was a triumph. Using the Town Hall was an inspired idea (we didn't even make it to the Cathedral in the end) and the whole thing seemed like it had been designed by music fans for music fans. I hope they get to do it again next year – although I don't think any of us, bands, promoters or punters, will be returning the Mustangs in a hurry.