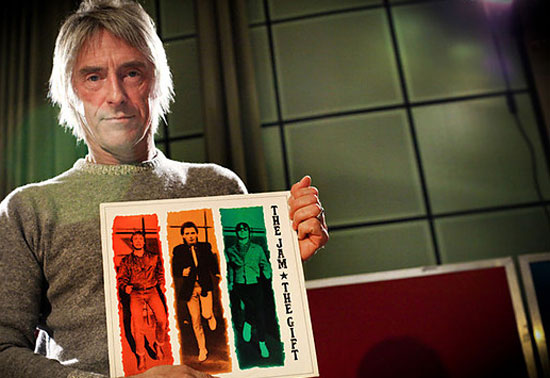 The Jam's final LP 'The Gift' has been re-issued by Universal this week, with November 2012 marking thirty years since the Jam announced their split. Despite containing the classic hit 'Town Called Malice', 'The Gift' is often overlooked in favour of 'All Mod Cons', 'Setting Songs' or 'Sound Affects' as the Jam's best work. Fergal Kinney takes a look at why 'The Gift' deserves its place in the hall of fame as much as any Jam album and why this experimental, esoteric record is still every bit as relevant thirty years on.
Â
By 1982, British guitar music found itself at a strange crossroads. After a rapid, bright ignition, punk had slowly but surely burnt out and battle lines were being drawn amongst the dying embers. It was clear by 1982 that the same energy that ignited punk had to be harnessed to prevent punk's contemporaries going the way of their dinosaur predecessors. Dexy's Midnight Runners were searching for the young soul rebels, a young Steven Morrissey had been awakened by a younger Johnny Marr and Orange Juice were in the midst of ripping it up and starting again – enter Paul Weller, visionary in chief of Britain's biggest band. Armed with a newfound love for the energy of 60s soul music and an awareness of the sonic progressions of bands like Kraftwerk and Joy Division; a shift was occurring not just in Weller's writing but in his vision for the Jam.Where seminal 'All Mod Cons' and would-be concept album 'Setting Sons' had confirmed the young Paul Weller as the unexpected songwriting hero of his generation, 'Sound Affects' and latterly 'The Gift' are testament to the uncompromising creative brutality of Weller's instinct – something furthered by Weller's scrapping of the Jam for the formation of the Style Council.
Though perhaps somewhat reluctantly, Bruce Foxton and Rick Buckler are at their sharpest and best on 'The Gift'; few rhythm sections could so competently realise Weller's ideas with such urgency and flair. Self consciously looking to turn his back on guitar music may have been a bold and alienating move, but it's clear that Weller's songwriting had enough strength to be transposed into different territory – even if it that meant less Rickenbackers and more horns. 'Ghosts' is at times an understated whisper of a song, and all the better for it. Similarly, 'Happy Together', the album's opener, is a perfect piece of pounding soul and in retrospect seems criminally overlooked as a single. Whilst the unity of the band around the time of recording seems to have been waning (with Foxton's complaints of feeling like a session musician), on 'Happy Together' the Jam had never sounded more like a band; incredibly tight and bursting with energy and dispensing needless glib with a sparse arrangement.
Though the Burton suits had long been shelved for Lonsdale t-shirts and dogtooth trousers, jibes of 'turning rebellion into money' and of political naivety were still levelled at the Jam's output. After his vicious assault on the cynicism of the music press ("And where are those writers thirty years later?" said Weller recently, "working for the right wing press") in Sound Affect's 'Scrape Away', Weller found his directly political voice for the first time in 'the Gift' – something that would be honed to perfection in the Style Council. The politicisation of Paul Weller came through observing Britain's relationship with Reagan's America (in his words "a complete fucking nutcase" with Britain as "his lapdog"), joining CND and reading of books like Tressal's 'The Ragged Trousered Philanthropists'. 'Trans Global Express' is the most expressly politicised song in the Jam's back catalogue, or indeed potentially the history of pop. A spoken word spat out against a revolving groove, 'Trans Global Express' is a call to arms for a general strike; a vision of seeing 'the hands of oppression fumble' and 'our marvellous leaders quiver' whilst 'the working people join together'. Sadly, the Falklands War, the Miners Strike and the rise of Thatcherism (by 'the Gift's release, Thatcher was still an unpopular Prime Minister not expected to surpass one term), would make this idealism seem irrelevant, but in the modern day much can be taken from Weller's warning of governments threatening their people will recession and war. Before the 1980's, most politics in pop music was either steeped in the traditional protest
song (Bob Dylan) or guilty of some element of posturing and ignorance (The Clash), but Weller's Style Council alongside the likes of Billy Bragg and the Smiths would later transform the way messages could be conveyed with guitars irreversibly, and the birth of much of this can be attributed to 'the Gift'.
In terms of songwriting, 'the Gift' may lack the consistency of previous Jam albums but the highpoints on 'the Gift' showcase Weller's lyrics at their sharpest and with a humour and verve often overlooked. 'Just Who is the Five O'Clock Hero' is as close to Ray Davies as Weller is ever likely to get; a portrait of Weller's childhood watching his father (the sadly departed John Weller who would later become Paul's manager), coming in from a hard day labouring 'covered in shit and aches and pains'. In parts a celebration and in parts a cry of asking more from life, 'Just Who is the Five O'Clock Hero' shares much of the same lyrical inspirations as 'Town Called Malice'. A number one single known instantly from it's Supremes shoplifted bassline, 'Town Called Malice' is described by Weller as an attack on the Tory dismantling of working class institutions 'under the phoney pretence that we could all suddenly be middle class because we owned our own
homes'. These two reflections of everyday suburbia are why the Jam resonated – and continue to resonate – with so many. The experiences in Weller's lyrics were not those of a trendy, metropolitan city dweller but of life in a small, slow town with reference points and characters that are as much Woking as Accrington or Coventry; the Saturday's kids at Tesco's and Woolworths, the little boy soldiers, the man in the corner shop, the thugs smelling of pubs and Wormwood Scrubs.
'The Gift' may very much be a stepping stone album between The Jam and the Style Council – with would-be Council single 'A Solid Bond In Your Heart' even being demoed by the Jam for the LP – but as far as stepping stones go, 'the Gift' is as powerful and experimental as they come, a reflection of a diverse and exciting climate in pop music and a frightening and oppressive one in politics.
What Weller said:
Carnation "A lot of my songs are about me. This one is about you."
Ghosts "I was trying to call out to my generation, a rallying call in the name of inspiration and fulfillment"
The Town Planner's Dream Gone Wrong "Luckily for them, the people who design the scary concrete jungles can all go back to their mock-Tudor homes at the weekend"
'The Gift: Deluxe' is out now as a 2CD set – a new digital remaster of the original album along with b-sides, covers and never before heard demoes – or as 'The Gift: Super Deluxe', a 4 disc compilation including live performances from around the time and, amongst other things, a 72 page hardback book with contributions from Paul Weller himself.