The Charlatans at BBC Radio 6 "" John Peel Lectures
31st October 2011.
All photographs ©Ian Tilton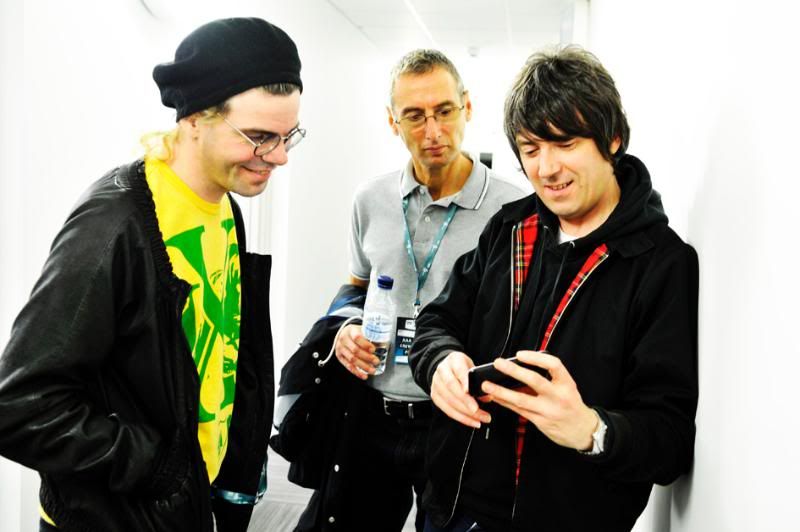 ÂÂ
"˜We've never fallen out with Music'"¦
To be writing this article at all seems very surreal to me. I remember happily immersing my young self in Some Friendly when it was released back in 1990. I was a 16 year old carefree and curly raver with the world at my feet and I'd lose myself in the melodic ambience of "˜Then', the baggy musings of "˜Indian Rope' and the funky guitar riff that teases the senses then bursts out into the classic "˜The Only One I Know'. To be invited to BBC Radio 6 to hang out with The Charlatans and my fella, legendary photographer Ian Tilton, whilst he takes their portraits is an invite that is music to my ears.
ÂÂ
Arriving on a rainy night in Manchester at the BBC Media City in Salford Quays we're welcomed by Martin Blunt (bassist) and Tim Burgess. We'd met up with Blunt at a recent Deadbeat Echoes gig at Sound Control, Manchester. He was friendly and jovial even when a leathered fan spaffed the words "˜I know who you are"¦ La La La Manchestaar' in his ear. He is in good spirits again despite having to be at the studio for a 3pm soundcheck (they are due on stage at 10pm).
Tim is equally as friendly, dressed in a yellow sweater and cute black leather jacket, his hair grown longer and bleached, the blonde contrast of his hair and black roots matching his skinny attire. He wears a black beret and round glasses to compliment his Parisian mime act meets the lizard king threads. He chats about his DJ spot at the Mint Lounge, Manchester that he is due to play, following the BBC event. This proves to be a good ice breaker as my friend's band Slamboree are playing at the same gig. I am able to tell him to check out this Techno Circus Showband and my nerves fly out of the BBC green room window and across the Salford Quays. Tim laughs about the last time he went to see John Cooper Clarke, who is also on at The BBC that night. "˜He offered me a cigarette and I just took it, completely forgetting that I've not smoked for five years'. Burgess tells us he is having reiki before he goes on stage and since being tee total for five years he practices transcendental meditation to help provide balance in his life.
 ÂÂ
Discussions open up around the room about John Peel. The night is being hosted by BBC Radio 6 in order to honour him with the "˜John Peel Lectures'. Pete Townshend was due to give the inaugural speech "˜Can John Peelism survive the Internet?' Burgess reflects appreciatively that "˜without John Peel I wouldn't have known about the Nine Inch Nails'.
John Brookes (drummer) who has been attending the Pete Townsend Lectures brings energy into the green room when he bounds through the door full of joie de vivre. Brookes recently survived a brain tumour and his demeanour shows that he is happy to be full of life and laughter. The banter turns to the Stone Roses when Brookes asks Tilts if he is going to be photographing them since their recent reunion (Ian Tilton captured hundreds of images of The Roses in the early days of their enigmatic career). "˜You know as much as me mate, that phone aint ringing just yet', is Tilton's mischievous reply.
The mutual respect between The Charlatans and The Stone Roses is evident as the conversations turn to anecdotes remembered from the early days on the circuit together. The whereabouts of Cressa (Stone Roses Funky Dancer) and if he is rejoining too brings laughs when Brookes recalls a night they played on the same bill as The Roses at Trent Poly. "˜There were only two people in the audience and Cressa who "˜was going all around the venue, up and down, up and down on a bleedin' skateboard'.
ÂÂ
Mark Collins (Lead Guitar) arrives looking cheeky and Dylanesque, wandering around chatting contentedly whilst finger picking warm up tunes on his guitar. Collins is followed by Tony Rogers (Keyboard) with his big friendly smile and gorgeous girlfriend at his side, the sounds of laughter and creativity fills the room. Blunt paces up and down the corridor, silently psyching himself up, chewing his gum in anticipation of what is to come. The band is complete and ready to perform.
Whilst we are waiting Tilts texts John Robb (Music Journalist Extraordinaire) to enquire whether he is coming to the gig. Robb replies, asking if Tilton can get an interview with The Charlatans for Louder Than War. Tilts turns to me and says "˜Do you wanna do it Miss Curly?' As a teenager I dreamt about being a music journalist until life got in the way, and Tilts knows this. Now here I am being presented with the perfect opportunity to come full circle. I've got five minutes to formulate questions to interview one of my favourite bands just before they go on stage (or two of the members at least). Here is the result.
What has brought you here tonight for this gig?
Mark "" Well, we were asked about two months ago, something like that.
Tim "" To celebrate Six Music.
Mark "" And John Peel. Pete Townshend delivered the John Peel Lectures today"¦.and I don't mind being in such esteemed company as that (grins).
What history do you have with the BBC?
Mark – The BBC have been with us from the start.
Tim – The John Peel Show was the first BBC session that we did.
Mark "" At Maida Vale.
Tim – With the Indian Rope era we did a couple of early songs and then various other sessions. We played The Mark Goodyear sessions all the way through to Mark Radcliffe, Stuart Maconie, Marc Riley and Jo Wiley.
Mark "" We've done pretty much a session on everyone who had that John Peel slot, whether it was on Radio 1 or Radio 2. So we've been doing the BBC for 20 odd years and have had a good history with them.
What has kept the Charlatans together after all these years?
Mark "" Cause we just wanted to play the BBC every year y' know (shrugs and gives a cheeky grin)
Tim "" I think it's because we've never fallen out with music, I think the music has always been a big thing to us, I think that's why.
As we know the Stone Roses have just reformed after splitting for 15 years and you've been going for all that time in-between"¦
Tim "" Yeah well bands split up and reform all the time but with the Stone Roses y'know it's not just anybody, it's a big deal and I'm really pleased for them. With us it's been a different deal altogether. We just want to court music"¦or have a relationship with music where we all felt we were getting along.
Have you ever come close to splitting up?
Tim – Yeah possibly, yeah, for loads of different reasons.
Mark "" I think the one I remember most is just after Rob died in 1996. That was a close call but we were in the middle of recording what was to be our best record (Telling Stories, 1996) and we had to finish it. So we did with the help of people like Martin Duffy (keyboardist) from Primal Scream (Duffy also helped The Charlatans out by playing with the group whilst they were supporting Oasis at Knebworth in 1996). Then we met Tony (Rodgers), He played so well that we thought yeah it doesn't have to be the end.
ÂÂ
I want to ask about the Acoustic sets that you've done this year? How did they happen?
Tim "" We started off doing them at The Ruby Lounge, Manchester. In the past we've done acoustic sets for Radio sessions like Six Music but we'd never done them live before. We were in between a Charlatans live British tour and we had a day off, we were asked and we thought "˜why not?' Then a couple of months after that someone came up to me and said "˜The acoustic set went down really well didn't it? There's four shows on offer how do you fancy doing it?' So I called Mark up and asked him what he thought. We both thought it would be a great idea. There are places like The Deaf Institute in Manchester that as The Charlatans we could never have played but it was a venue that we both really love. Also there's a place called Oranmoor in Glasgow and The Union Chapel in Islington where we played with the congregation.
Mark "" And with a live band too, but not at our normal volume!
Tim "" And it kind of grew, we drove around in a car, the three of us. Me, Mark and Nick Fraser.
Mark "" A Honda Civic (laughs)
Tim "" Yeah a Honda Civic (laughs at the memory).
Mark "" With the exhaust falling off, when we pulled up at the gigs it would be blowing and they could hear us coming before we arrived!
Tim "" It grew from four to sixteen gigs quite naturally and we were just adding more as the phone calls kept coming through.
We saw you at Band on the Wall in Manchester and you did a few stripped down variations on your songs didn't you?
Tim "" Yeah, another thing that happened is that when we released the last album we got asked by David Lynch to contribute to his record label, The David Lynch Foundation so we did a remix and actually dismantled "˜The Only One I Know' and re-recorded it. Me on vocals, Mark on acoustic guitar and Tony doing backing vocals and then we got a band called Factory Floor to remix it and kinda put their twist on it as well, with echoes and electronic beats on it and David Lynch really loved it. That meant a lot. So by doing that it kind of got us onto the acoustic bug and we did an EP called Warm Sounds 2011, we pressed up a few thousand of that and people liked that as well. I like the idea of stripping the solid foundations down of a song like "˜The Only One I Know' and giving a really different twist on it.
So I take it you're a fan of David Lynch then?
Tim "" Yeah of course
What's your favourite David Lynch film?
Tim -I really like Lost Highway, although saying that Blue Velvet is up there and Wild at Heart too. I think they're funny, I Iike the humour and Nicholas Cage's snakeskin jacket (laughs). That was the first David Lynch film I saw, it's really camp.
So you've been doing the Festival scene this year? Which was your favourite of the year that you performed at?
Mark "" I always like the Spanish ones that we do. We did a good one in Ireland this year, The Electric Picnic, they played a lot of Motown. That was my favourite one.
Tim "" Kendal Calling
Mark "" Yeah Kendal Calling that was good. We did one with the Specials out in Spain too, so it was good seeing them play.
Do you think that's the way forward for artists now, doing the festival scene?
Mark "" Yeah it's part of it although I don't have a problem with still doing gigs in pubs (laughs)
Tim "" That's the good thing about doing the acoustic gigs because we got to play churches. I really enjoyed that. Like festivals or churches or The Apollo or wherever, it keeps it all interesting and mixes the formula up.
It's also interesting that you mention churches because my next question is what do you have faith in? What keeps you going?
Tim "" Erm I'm a big fan of the Maharishi Mahesh Yogi. Transcendental Meditation for me, I'm really into that. But y' know I also like Northern Soul, I'm a big believer in Tamla Motown, The Supremes and David Lynch (laughs).
Considering today's current economic climate have you got any advice for the bands that are just starting out?
Mark "" Good Luck! (shrugs and laughs apologetically)
Tim "" (laughs) Erm"¦I can't really add to that, can I?
No, Tim couldn't add to that because there wasn't enough time. The Charlatans were due on stage in five minutes. I thank them for granting the interview, and they thank me, Nice one! Tilts lines them all up against the wall to shoot their portraits like a BBC TV non licence payers police line up. Goddamn I wish I had asked them if they do pay the fee? What would be their answers to that?
After they've posed precariously over a balcony for the benefit of the camera it's time for them to go out live on BBC Radio. I follow the band and Tilton through doors, along corridors and down stairs into the studio. It feels like a Northern version of Spinal Tap and the atmosphere feels heavy with expectation as Stuart Maconie and Mark Radcliffe introduce the band. The audience are subdued and give the feeling of a rentacrowd brought in to look good but not much else. However, when the lights go on they clap and cheer as the gig starts to be broadcast. The electric razor sharp opening chords of "˜Forever' fill the studio and The Charlatans provide an enjoyably tight and intimate set, deftly weaving their way through classics like "˜North Country Boy', "˜Impossible' and my favourites "" "˜Telling Stories' and "˜Smash the System'.
ÂÂ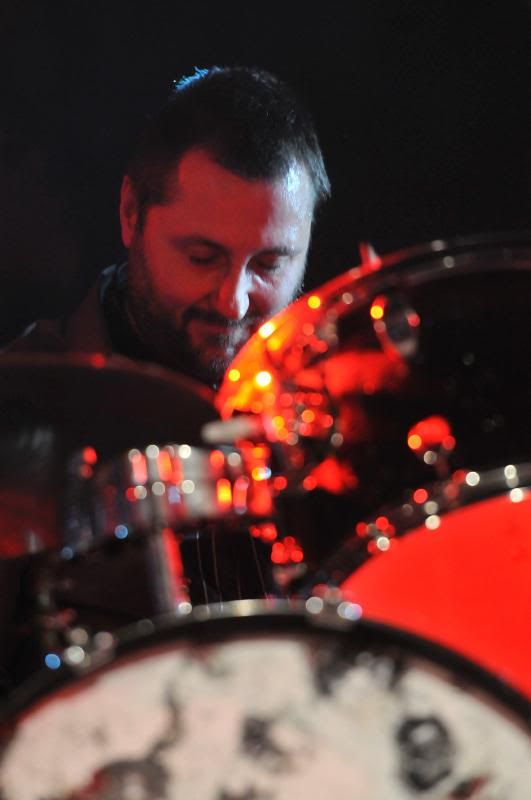 You can listen to the Radio 6 John Peel Lectures featuring The Charlatans by following this link: https://www.bbc.co.uk/iplayer/episode/b01704w5/The_Joy_of_6_Pete_Townshend_presents_The_John_Peel_Lecture_plus_live_music/
When the gig ends the band make their way back to the dressing rooms. There's a comedy moment when we get lost on the way back and with the excitable energy present in everyone we all get a bit confused as to which way to go. I suppose I kind of imagined that there would be scantily clad showgirls showing us the way with buckets of Moet and the rest, so I was a bit surprised how normal it all seemed! Then I remembered that it was a Monday night at The BBC in Salford.
ÂÂ
Everyone chills out in the green room, talking and laughing, full of the nervous energy that drives these artists. The adrenalin, natural high and their love for the music is what keeps these guys going. I am pleased to be able to gain insight into their world and learn how these musicians tick. For me, The Charlatan's music has always had a presence in my life and the joy of this is that they have such a good back catalogue of tunes to tap into. Their humour is evident in their lyrics and this cheekiness has cheered me up over the years when I've needed it. There are burning questions I'd still like to ask regarding Tim's teetotalness, reiki and meditation and where are the showgirls? All these will have to wait. It's time for Burgess, Collins, Tilts and me to go and run away with the Circus at Manchester's Mint Lounge, it is Halloween after all.
Some Friendly? Yes, Indeed.