Robert Mitchum – by Ian Johnston
Fourteen years in the ground come July 1st,, Ian Johnston celebrates the original Hollywood outsider, droopy-lidded actor, hellraiser and walking contradiction, Robert Mitchum.
Colorado Springs, 7 November 1951. RKO studios star Robert Mitchum is enduring the final days of shooting dreary Korean War picture 'One Minute To Zero'. With hailstorms and snow delaying filming, he's spending most nights in the Alamo Hotel's Red Fox Lounge, picking up women along with his drinks. At 5,800 feet above sea level, Mitchum has joyfully discovered one drink has the power of two.
So, he's at the bar, chatting with a co-star and a lieutenant colonel, when Private Bernard Reynolds walks in. The colonel tells Reynolds to button his jacket. Reynolds tells the colonel to button his lip. Mitchum grabs Reynolds by the collar. Reynolds tries to hit him. Ducking the punch, Mitchum seizes the uppity soldier and slams his head against a table, before delivering a conclusive kick to the face.
The fight made national headlines – mostly because the hospitalised Reynolds was, it turned out, a heavyweight boxer with 19 knockouts to his name and ranked 10th in the world. "It wasn't the Marquess of Queensberry rules," Mitchum admitted years later, as noted in Lee Server's definitive biography, Baby I Don't Care. "I brushed my foot across his head to say, 'See, fucker! See what I could do to you?' When you fuck with an ape, be ready to go the whole route."
Bob Mitchum never really had to act the tough guy. He was the real deal. Before Brando and James Dean, Mitchum was the archetypal American hipster anti-hero. Actors from Eastwood to Rourke to Michael Madsen have channelled his deadpan cool. Filmmakers like Scorsese, Tarantino, the Coen brothers and Jim Jarmusch) who gave the actor his last great role, in 1995's Dead Man) have tapped the doomed fatalism of Mitchum's finest film noirs.
For more than half a century, in over 100 films, he made acting look so simple; many assumed he wasn't even performing. Yet behind his jaded façade, Mitchum could express a wide, naturalistic range of emotions. Whether as an ill-fated noir lead (Angel Face, 1952), a crazed preacher (Night Of The Hunter, 1955), broken underworld informant (The Friends Of Eddie Coyle, 1973), or a world-weary rodeo rider (The Lusty Men, 1952), he was equally convincing.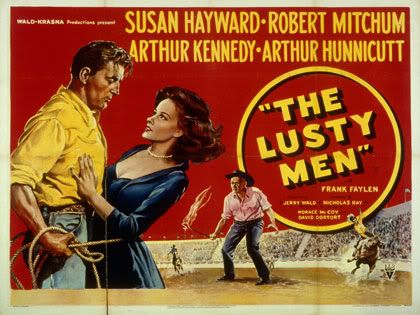 'Lusty Men' Cinema poster
Mitchum could smoothly switch from courtly suitor in the Cary Grant comedy The Grass Is Greener (1960) to revenge-bent, ex-con rapist in the original Cape Fear (1962).
If Mitchum is too often overlooked as one of the screen-acting greats, it may be because he never appeared to take it all very seriously. His impassive, almost idle authority made other performers look over-anxious on-screen and he mocked them off it. "They've been nowhere and seen nobody… these Method guys, they've done nothing, " he once stated. In contrast, his acting skill, no-nonsense attitude and ability to survive in Hollywood for so long was drawn from colourful experience…
Robert Charles Duran Mitchum was born in Bridgeport, Connecticut, on 6 August 1917, to James and Ann. When he was only two years old, his father – a railroad worker – was crushed to death between two carriages while on military service in South Carolina. His mother, pregnant with Mitchum's younger brother John, was left to raise them and older sister Annette on meagre government compensation.
She found work on a Bridgeport newspaper, while found trouble at school, quickly displaying the contempt for authority that would stay with him his whole life. Jealous of all the children with fathers, he became independent, stubborn and reclusive. Things didn't improve when his mother remarried in 1927 to Englishman Major Hugh Cunningham-Morris. A World War One veteran riddled with shrapnel, Cunningham-Morris couldn't work hard enough to support the family, but Robert didn't appreciate his stepfather's condition or considerable achievements.
With money tight, they lived a nomadic lifestyle, eventually ending up in New York, when Annette landed a job teaching dancing. Mitchum attended Haaren High School on 10th Avenue, in the heart of the infamous hell's Kitchen. He learned fast that he had to be hard to survive. Then, at the height of the Depression, the precocious 14-year-old quit school and hit the road. California was the destination, but he was in no hurry to get there: drifting from job to job, smoking dope he found growing by the railroad tracks. "I rode underneath trains, inside the boxcars and, when I heard a guard coming, on the girders…"
In Savannah, Georgia, in the sweltering July of 1933, the 16-year-old Mitchum was arrested on vagrancy charges and served time on a chain-gang. He spent his first night in clink next to a man callously left die of a tubercular haemorrhage, hardening his anti-authoritarian stance. Eventually, he escaped – under gunfire – and returned to his mother's house. Cuts from his leg-irons became so infected he nearly lost a limb and for a long time he could only walk on crutches. It was in this bedraggled state that he met his future wife, 14-year-old Dorothy Spence. "He never thought of paying a compliment like the other boys," Dorothy would complain. "Yet every other boy I knew was so dull by comparison." They eventually married on 16 March 1940, their remarkable, unbreakable union surviving his numerous affairs and scandals right until Mitchum's death in 1997.
At the end of 1934, he wandered West again, this time to join his sister and her husband at their new in Long Beach, California. Yet again, he worked his way across the country, mostly as a bouncer and labourer until, after being fired from a Toledo car factory for refusing to wear socks, he turned to boxing in Nevada in the summer of 1936. The injuries he sustained provoked astigmatism in both eyes, which coupled with his long-standing insomnia, shaped his famous hooded eyelids.
Nineteen years old and back in Long Beach, Mitchum thought it was time for the wandering to end. So, through 1937, he joined his sister (now named Julie) the Long Beach civic theatre, moving the scenery, acting and writing. Though he took his writing more seriously – and also worked s a publicist and at the Lockheed aircraft plant – Mitchum found acting the most fun. When he had to quit the Lockheed gig because the factory machinery was deafening him, his mother suggested trying to make it on the silver screen and Mitchum began auditioning in his time off from his new job as a shoe salesman.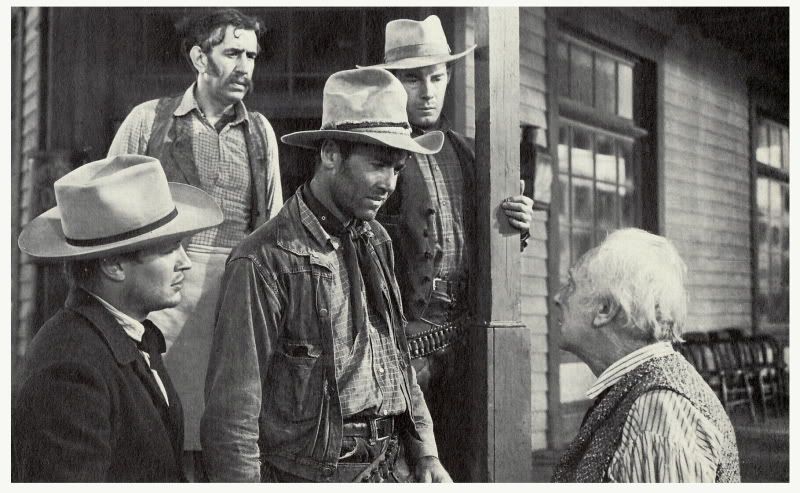 'Border Patrol'
United Artist hired him in 1943, as a heavy in the Hopalong Cassidy western 'Border Patrol'. Told not to shave or cut his hair, he landed six more villainous parts in 'Hoppy' pictures. "I was getting a hundred bucks a week, plus all the horse manure I could take home," he said. "And from then on my fortune was made." Two years of minor roles in comedies, war flicks and more westerns followed, before playing an austere marine in 1945's The Story Of GI Joe saw him snag his first – and only – Oscar nomination.
Stardom beckoned, but the war intervened and Mitchum was drafted. A life in uniform didn't suit him, but it was better than prison: a fate he narrowly avoided just before being recruited. An evening smoking and drinking on his porch had been interrupted when a man ran up the steps and shone a torch in his eyes. Mitchum punched him in the face, breaking his nose. Unfortunately, the 'intruder' was a cop who'd come to the wrong address. The actor was advised to plead guilty to being in "an intoxicated condition on private property" and pay a $10 fine; the judge wanted to bang him up for six months and only his impending army service saved him. Not that he was a good soldier: he never saw active service and spent his entire eight months as a drill instructor and medical assistant, inspecting "the asshole of every GI in America, looking for piles, haemorrhoids, bananas, grape, dope … you name it."
World War II wrapped and Mitchum returned to Hollywood, under contract to RKO. In 1947, after a memorable turn in Edward Dmytryk's Crossfire, he gave one of the greatest performances of his career in Jacques Tourneur's majestic study of fatal obsession, Out Of The Past (aka Build My Gallows High). Mitchum is mesmerising as the existential loner, Jeff Bailey, dragged back into a world of crime by Jane Greer, mistress to mob boss Kirk Douglas.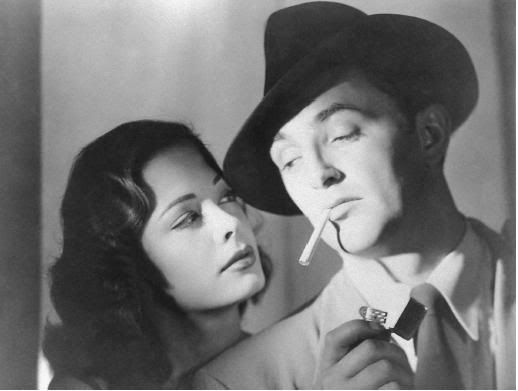 Mitchum/Greer 'Out Of The Past'
"What are the lyrics?" Mitchum would ask in rehearsal, referring to the script. But his indifference was a front. Like the jazz musicians he adored, the star always knew the whole score.
At 31, Robert Mitchum was a fully-fledged movie star. Then, suddenly, in 1948, it looked like it was all over. On midnight on 31 August, Mitchum, starlet/girlfriend Lila Leeds, buddy Robert Ford and Vicki Evans were arrested at gunpoint at 8443 Ridpath Drive for possession of marijuana. When asked his occupation, Mitchum replied, "former actor." But eccentric millionaire Howard Hughes, the new owner of RKO and Mitchum's boss, didn't want his most valuable star in the slammer. Hughes employed top trial lawyer Jerry Giesler and the double-quick production of a comedic noir, The Big Steal, directed by Don 'Dirty Harry' Siegel, was conceived as the ideal Mitchum escape vehicle.
So it wasn't the end, just a new beginning. Dorothy, Hughes and Big Steal co-star Jane Greer all stood by their man. Attitudes in post-war America were slowly changing and the rap simply boosted Mitchum's 'bad boy' popularity, with RKO rush-releasing his next pictures, Rachel And The Stranger and Blood On The Moon, to capitalise on the publicity.
Audiences queued around the block. Mitchum – who believed the bust was a set-up – eventually copped a plea and received 50 days inside. Released on 30 March 1949, he told waiting reporters that his time in the county jail had cured his insomnia and given him some privacy. Then it was back to work: The Big Steal, filming in Tehuacan, the heartland of Mexico's marijuana-growing region. Mitchum arrived on set late, mumbling incoherently to his 'bodyguard', who was out cold on the back of their huge black sedan car. According to the driver, they had drunk two bottles of tequila. Howard Hughes later told the actor: "Robert, you're like a pay toilet, aren't you? You don't give a shit for nothing."
He certainly didn't appear to, though his popularity would endure for many years, way beyond the end of the Hollywood studio system – even if the quality control was occasionally ropey (from the heights of Howard Hawks' El Dorado (1966) to the depths of Michael Winner's atrocious 1977 remake of The Big Sleep). And sometimes, he did care…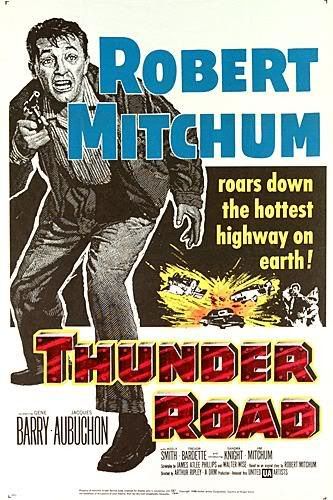 'Thunder Road' Cinema poster
In 1958 he produced Thunder Road, writing the story and the anthemic rock 'n' roll title song. For the high-speed saga of bootleg liquor-smuggling down South, Mitchum wanted no less than Elvis Presley to play his younger brother. The pair met. Elvis bought his Memphis Mafia; Mitchum arrived with a bottle of scotch. "Here's the fuckin' script," he said. "Let's get together and do it." Elvis replied that he couldn't do the picture without manager Colonel Tom Parker's permission. "Fuck the Colonel. I'm talking to you!" bellowed Mitchum. Eventually his son, Jim, got the role.
Mitchum in 'Dead Men'
The dopey-eyed star finally died on 1 July 1997, aged 79, succumbing to emphysema and lung cancer – still working and still refusing to abstain from tobacco or hard liquor.
As Scorsese said, "Mitchum was film noir."