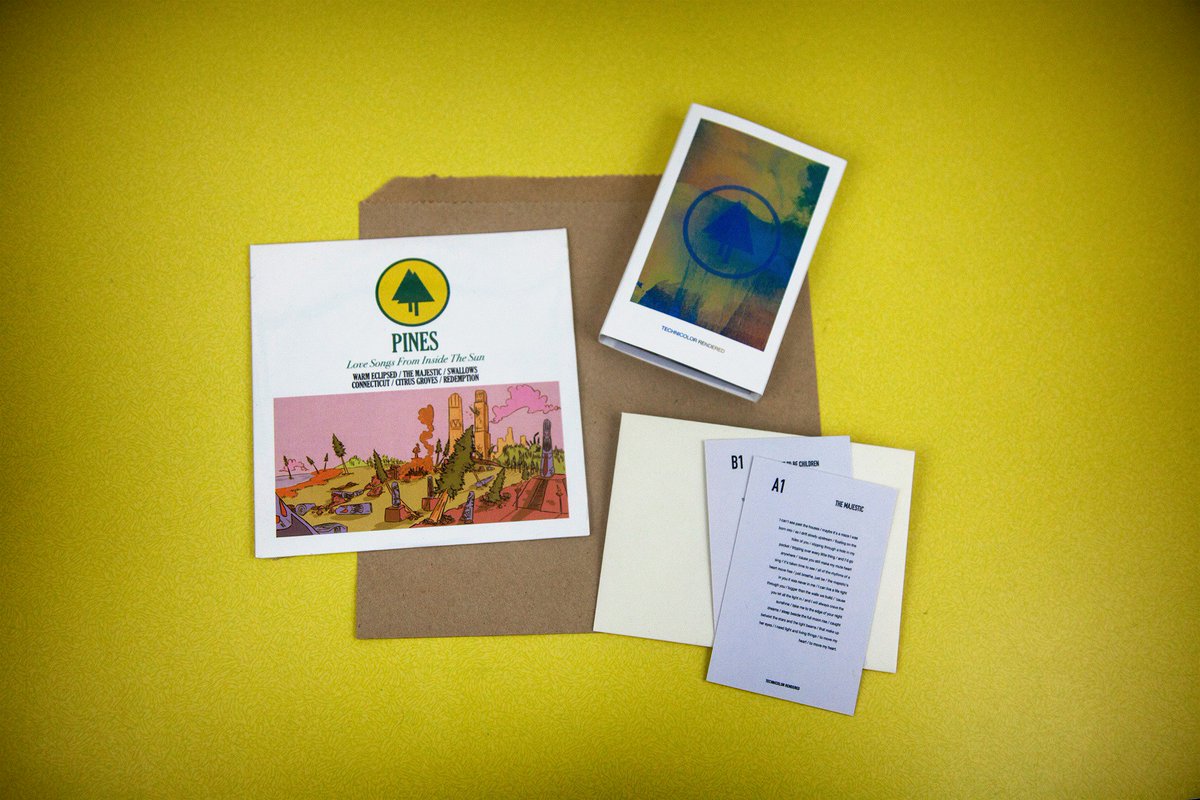 PINES
Gullivers, Manchester
2 April 2016
There is a certain air of aptitude present in tonight's proceedings.
The revival of cassettes is, unlike Vinyl's smug return in acquisitive pro-industry rodeos like Record Store Day, a deliberate anachronism and a declaration of intent. In the digital age, with the promise of culture being preserved regardless of its merit, the bravest thing an artist can do is give their art a shelf life.
The irony is that a record needs to die eventually in order that it makes a deeper impression on the minds of listener. Incessant hiss and magnetisation wipes are a small price to pay to avoid the living death of an inactive Soundcloud. On top of this is the nineties affectation sported by most bands on the bill, perhaps harking back to the last time guitar music, and especially Mancunian guitar music, really packed weight. But idiots with Telecasters this isn't.
The sell-out crowd in Gulliver's is a cross section of creatives – musicians, poets, visual artists, film makers, performance artists and other various species of quixotic romantics are gathered to watch a three band bill, starting with Lavender, then Bête and finally PINES. To overhear a conversation in here is not to fall upon affected glottal stoppages or the letter T being dropped with deafening embarrassment. On the contrary, the crowd is diverse enough to not have an overwhelming majority of Mancunians.
Lavender are the nearest to a 'Manchester' band, but are generally more sensitive and nuanced than appropriating Mersey Beat. The music they play – as the shell suits and haircuts would insinuate – is massively influenced by The Stone Roses, but with a traditional stadium sensibility. The guitar work on display owes as much to Lindsay Buckingham and J. Mascis as Chris Squire and the overall sound of the band owes more to The Delays than My Bloody Valentine. Furthermore, and perhaps most interestingly of all, the counterpoint and phrasing immediately remind ones of modern progressive bands like Scale The Summit. All this provides a bright and energetic start to the gig and a band's sound that can only improve with maturity.
The following band, Bête, pulls on the progressive thread that runs through the entire night and offers something that a band of any skill would have difficulty following. The Battles-infused breakbeats leave me overjoyed, and the deftness displayed by their rhythm section – and their drummer in particular, with dizzying snare and cymbal interplay – made each song soar. There is much in the way of drive, but Bête are a band chiefly informed by texture and flavour. The manner in which the music ricochets off itself before bearing forth cathartic chord washes is like watching a wave knit itself together and roll towards the shore.
There are a massive amount of references to be had in Bête's music and the variety of influence the band displays is simply staggering. Intrusive shrieking guitar effects over a steady melodic base calls Talk Talk's After The Flood to mind; UNKLE's Lonely Soul, and its dark, romantic trip-hop, is filtered through Bonobo's jazz trappings and Air's unrelenting jauntiness; and throughout all of this, the guitars channel Thurston Moore's manic delivery. The jazz element to the music is also reminiscent of 4hero's complex delivery. To finish with, the guitars and vocals begin to phase in relation to each other, as David Sylvian and Robert Fripp's Firepower collaboration did. Bête are everything a new and daring band should be and very, very nearly steal the show.
These dramatic openings offer a stir of unease in me, as I have followed the progression of PINES and its members for almost a decade and have never known them to be outclassed. However, as the members steadily take the stage, I am reassured by a sight I could have expected.
PINES' set up is enormous (laptops, analogue synths and pedalboards galore), but I wouldn't expect anything less from the various members. Sam Jones, for instance, is a man who will enter a serious argument over the relative merits of Steve Hillage and Caribou. Of the members, I am most familiar with the previous work of Jones and Adam Mortimer, from bears?BEARS! through Moscow Transport and PINES since. These two men have, from their earliest work, espoused a unique and urgent brand of progressive rock, merging The Bends with its particular successors and unlikely influences. Their progression has been nothing but a joy for me to track, as Jones's faculty as a producer is enormous and Mortimer's attack betrays an intriguing niche between Jonny Greenwood and Wilko Jonson.
The X factor tonight however, as I suspected and Jones later confirms, is frontman Chris Cooper. Hailing from the northeast, Cooper sublimates the influences from his native region – particularly Detroit Social Club, as his vocal delivery would suggest – with an expressionist and emotionally charged onstage persona. On their first EP Love Songs From Inside The Sun, Cooper is the acknowledged as the writer and producer of all the tracks, with Jones mixing and mastering and Jones being a strict instrumentalist. Cooper's performance is dynamic, unapologetic and wholly unique, but with the mark of a born frontman. This, almost in itself, elevates the band from prog curiosity to a challenging and excellent band. This is not to insinuate that there is anything wrong with the band's previous trappings – this is a powerful and self-assured unit finally coming to fruition in its maturity.
In the background, Bark Media's Charles Leek offers a Barkeresque vision of Manchester in negative as this band – consisting mostly of non-locals – gives a Blakean impression and sound of a Manchester constantly emerging from a regenerative cocoon and, like Burial does for London, leaves this eternal process ambiguous as to its ends. Has the Manchester of today exorcised its demons or has the permanently changing architecture lent the city an uncanny element, merely making shadows longer and alleys darker? It is possible to infer all of the because the music is extremely tactile, for all its grand scale – it is based off how things feel and taste, rather than merely relating street-level ballads, channelling the city's anxieties and folie almost as a seismograph measures an earthquake.
The music is not lacking in its genre-moulding, artist-hopping ability – Mortimer adds Adrian Belew to his repertoire, as the beats and chord progressions marry Portishead with Ryuichi Sakamoto and the bass, like in Love's 'The Red Telephone', is never resolving, keeping the music on a tight choke chain before yanking the music back to uncertainty.
The night as a whole is an ecstatic triumph, and PINES are worthy headliners for such a fantastic bill. Perhaps the shot in the arm this city's music needs is music from outsiders who take artistic risk and staunch professionalism into the bargain.
~
Technicolor Rendered is available now.
All words by Alexander Garvey Holbrook. More from him can be found here.