Live Review
Kiss This! Tarbeach NYC night – Broadcast, Glasgow
Three Scottish Punk bands who have released music on New York label Tarbeach; the Zips, Reaction and Heavy Drapes -rock Broadcast… Neil Hodge reports.
There had been much anticipation for this gig all over social media and despite a lot of competition from other gigs in Glasgow that night, including The Real McKenzies along the road at Nice n Sleazys, the gig was a sell-out in advance. Kudos to the 3 bands and Danny Mac (Testifying Time Radio Show) for all the promotion on Facebook to achieve this.
I for one had been looking forward to seeing the 3 bands together for a while and none of them disappointed. I know rest of the punters at the gig were in the same boat.
The warnings were out in advance – the gig was a sell-out, returns only on the door and the first band would be on PROMPT at 8pm as it was an early curfew. 3 bands sets to get through in 2 and a half hours including changeovers – a challenge!
Sure enough, and true to the word, as I arrived at the venue with my mate, there was a queue of people waiting to pick up their tickets and the first band were already on.
The order of the bands hadn't been advertised to ensure maximum attendance from the start and as we got downstairs, the venue was packed and the atmosphere electric for the first band, ReAction.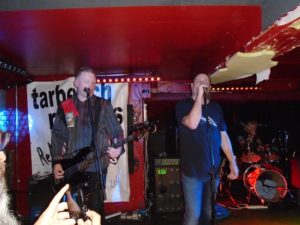 Big Carson had to be careful he didn't brain himself on the low beam right in the middle of the stage. As always the band played a flawless blinder of a set of all the ReAction favourites. They slipped in a few cracking new tracks too – "Kill Time", "Been There Done That" – written by Scott, and "Kamikaze Baby" – destined to be one of my new favourite ReAction songs.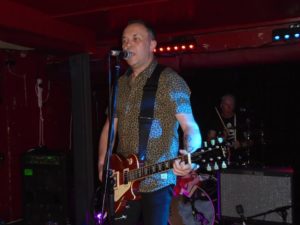 The band were as tight as I've come to expect them and Joe's masterful guitar playing is a joy. The early curfew meant trying to get through as many songs as possible in the allotted time – at one point Joe mentioned they still had 5 songs to play in 6 minutes!
This also meant a choice on whether to play External Menace's "Someday" or "I Wanna Be Your Dee Dee Ramone". An impossible choice given how great both tracks are! The audience choice was "Someday", much to Bryson's dismay – "that's right pick the fast one and kill the drummer!" Storming set.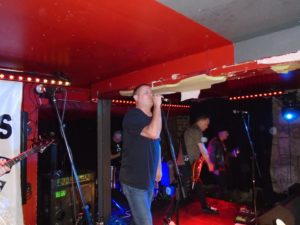 It was pretty warm from the start but by the time ReAction had finished it was a sweat box. The band switchovers were fast so only time for a quick diet coke, a chat with Jonzip and a few hellos to folk I finally managed to meet in real life rather than in the virtual world. Then it was the turn of Heavy Drapes…
There were plenty of MoNkArOcKs limited edition t-shirts on display in the venue. New bass player, ex Scars guitarist, Paul Research was also resplendent in a MoNkA creation with "Heavy Bass" on it like a statement of intent. And he followed through magnificently – an awesome first gig with the band. De Liberate announced their arrival with his usual cry of "We're Heavy Drapes and we are punk rock" before launching into the musical manifesto.
The searing set of crowd pleasers contained all the Heavy Drapes staples. "Number 1", "Into the Blue", "Nightrippin'", "Janie" and of course, my personal favourite "(I Wanna Be) Maladjusted". "Guest backing vocals" on "Hanging Like a Suicide" were provided by Charlie from Dublin, who was one of several folk tonight who had travelled some distances for the gig.
I've seen the band several times over the last year but I thought tonight they were outstanding. The sound was loud and dense, with aforementioned "heavy bass" complimented by Billy Chaos creating merry hell on the drums and Richie Stiv providing the punk rock riffs. My mate had last seen them on this very date last year. His comment that the band had come a long way since then spoke volumes about the journey the band has made in the last 12 months. Looking forward to the album…(and the French EP!)
Another quick turnaround and then it was the turn of the Zips to end the evenings proceedings. Kicking off with topical track "Hear Hear" – "our country, at war, with itself, and its people, this dis-united kingdom". The set included songs from throughout the bands back catalogue.
Every track went down a storm with a melee of bodies down the front, singing away with huge grins, bouncing and slamming into each other. As they played "40 Years of PuNk RoCk" in itself a song that s 10 years old having previously been "30", I wondered if we'd all be there in another 10 years singing along to "50 Years of PuNk RoCk"? The band included an old track played live for the first time "Take Me Down". This can be purchased soon on new Gary Crowley punk/new wave box set. Jonzip started to thank everyone who had travelled to be at the gig only to be reminded that "we've only got 30 minutes….".
The set ended with classic "Don't Get Pushed Around" which was obviously well received & included a microphone takeover/stage invasion by several enthusiastic gig goers.
And there it was. 3 blistering sets by 3 of Scotland……….nay, the UKs finest proponents of this thing they call "punk rock".
As I walked up the stairs I realised I had been enjoying the bands so much I had no photographs of said bands to add to this post! So photos are courtesy of Chris Davis and John McLaughlin (Cheers!).
Based on tonight's performances and the reaction of the crowd. Scotland's punk future is in more than capable hands. I can't wait until they do it all again! In the meantime, you catch all the bands around the country in the next few months. The Zips are always playing somewhere loads of gigs in Glasgow especially, ReAction have a few great gigs coming up with the likes of Penetration and Andy Blade (Eater), Heavy Drapes have a schedule that is taking them as far afield as Amsterdam, next up for them is the 100 Club. Check out all the bands Facebook pages for gig details and Tarbeach Records for releases.
All words by Neil Hodge whose Author Author Profile is here.