Kid Kudi ft Eminem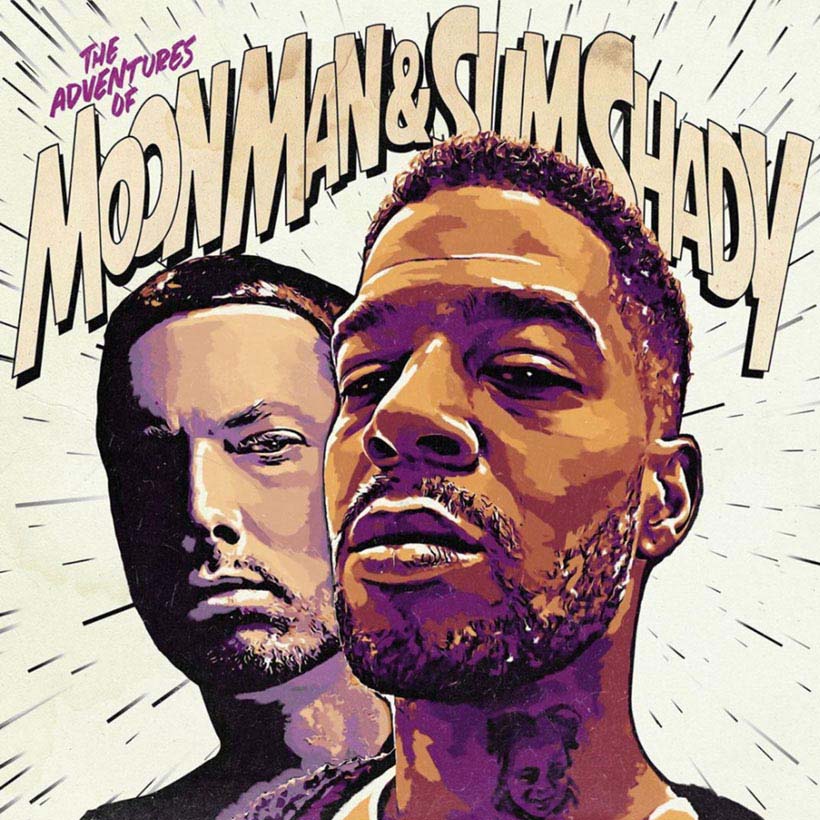 The Adventures of Moon Man & Slim Shady
Republic Records
Released on 10th July – all formats
Eminem and Kid Cudi Join Forces for the First Time Ever with New Single, The Adventures of Moon Man & Slim Shady which was released yesterday on July 10th.
Despite both being rap legends of the same generation, Kid Cudi and Eminem have come together for their first ever collaboration called, The Adventures of Moon Man & Slim Shady. This single is the third to follow Kid Cudi's 2020 tracks, also including Leader of Delinquents and The Scotts with Travis Scott. The Adventures of Moon Man & Slim Shady dropped on Thursday at midnight after a lot of speculation. Kid Cudi's daughter, Vada, announced the collaboration in a teaser video – which is the first time the rappers have ever joined forces.
The track entails the current events which we are living through, the obvious being Covid-19 and the excessive use of police brutality which is happening over in America. Kid Cudi raps about recovery, his brief stay in rehab for mental health, and how he's much better now, assuring fans he's got his head out of the rabbit hole. Meanwhile, Eminem emphasises more on the current events and the whole coronavirus pandemic, as well as showing his respects to a few (of many) people that were killed from police brutality.
When on the topic of coronavirus Eminem raps, "Half of us walking around like a zombie apocalypse, other half are just pissed off and don't wanna wear a mask and they're just scoffing. And that's how you end up catching the shit off 'em, I just used the same basket as you shopping now I'm in a fuckin' casket from you coughing." Eminem closes off his section with tribute to George Floyd and Ahmaud Arbery, "Prayers to George Floyd and Ahmaud Arbery. How the fuck is it that so many cops are dirty? (Huh?) Stop, man, please, officer, I'm sorry, but I can't breathe when I got you on top of me. Your goddamn knee's on my carotid artery (Fuck)."
I sincerely hope the adventures of Moon Man and Slim Shady continue, the two rappers combined are a powerful force to be reckoned with.