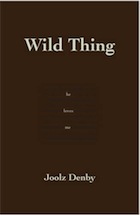 Joolz Denby- Wild Thing
Published by Ignite Books
Paperback book
Available to buy now
From tattooing and art, to poetry (written and performed) and novel writing, Joolz Denby simply oozes creativity. This review takes a look at her intriguing (and disturbing) latest novel, Wild Thing.
Wild Thing by Joolz Denby is not the sort of book you'd choose to read when you want to relax. It more or less grabs you by the hair and marches you through the pages with such a grim determination that you can't put it down. You put it aside for a moment thinking, 'this is way too heavy'…then you find yourself unconsciously picking it back up again.
With a first person narrator who somehow survives a life that would make anyone question their sanity, it's a combination of a self-help book and a fictitious biography. From the heights of the music industry in London to the internal politics of the Bradford social services, the book follows one character's life that never turned out as she wanted, or even as she expected.
It sounds bizarre but it's actually very difficult to describe this book, because the book is just that: bizarre. It starts out in one direction and your expectations are geared towards one type of story, but then things veer off in another direction and a whole different sort of story is embarked upon. It sounds very cliche but this really is a book that leaves the reader unsure as to quite where it's going to go next. And yet even the weirdest plot turns do not feel contrived, they gel together as a whole, in a way that both surprises you and at the same time makes sense.
The ending is jarring and yet is finished in a way that does make sense and does fit. It also breaks free from the overall narration style of the book which makes for a last few pages of interesting reading at the end.
All the way through this book has you wishing you could stop reading, because it really does tire you out, but it always leaves enough of the plot hanging that your curiosity gets the better of you and off you go again.
The best way I can describe the novel is to say that if you pick it up expecting a Disney fairytale, you are sorely mistaken, but if you pick it up expecting the historical original version of a fairytale, (you know, the incredibly dark and disturbing yet thoroughly gripping ones), then you'd be much nearer the mark.
Joolz has a talent for the unsettling and her characters are as complex and intricate as the lives they live. Even if it's not a book you'd WANT to read, it's certainly a book you SHOULD read.
Joolz Denby's website can be found here
her twitter here
and her youtube here
All words by Lizzie Alderdice. More reviews by Lizzie on Louder Than War can be found here.