In a recent blog, LTW reported that Hasbro Toys were to release a
Metallica themed version
of the classic board game Monopoly.
An interesting way to promote both a band and in this case a board game – all of which got me thinking about other merchandise opportunies that have been exploited; we are all familiar with the obligatory band T-shirt, the hoodie, button badge etc but which bands have pushed the boundaries and stuck there logo onto items not usually associated with rock 'n' roll.
Not very exciting, but we thought better to start with something gentle…
1. Coldplay – Ceramic Mug
Released to promote the 2009 'Viva la Vida' album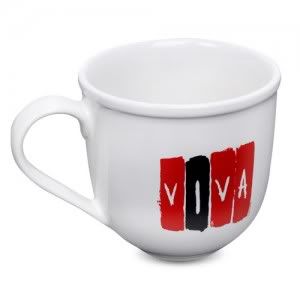 2. Wilco – Aluminium Water Bottle
Wilco being proud of their eco credentials released this recyclable water bottle in 2008
3. U2 – Lego
A band as huge as U2 have a selection of merchandise as huge as your average department store, so making available a limited run of U2 as Lego was an inspired idea.
4. Metallica – Light Switch Cover
The metal masters are not content with dominating the heavier end of the rock market, now they want to more into interior design.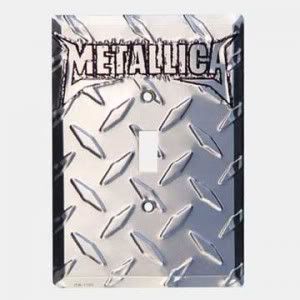 5. Bloc Party – Condoms
Not the only band to have had their logo stamped onto a packet of three, but were certainly one of the first; cleverly used the lyric 'make it long, make it last' as a tag line.
6. Ween – Colouring Book
It's always good to encompass all age demographics; so to further this Ween released a childrens colouring book, thus allowing junior fans to re-interperate the bands cover artwork.
7. No Doubt – Band dolls
Again not the first to have their images transferred to dolls, however No Doubt took it one step further and included instruments, stage and backdrop.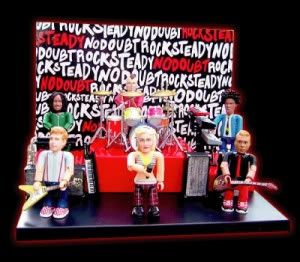 8. Led Zepellin – Blankets
I suppose someone thought these would be ideal for relaxing upon at a festival; they clearly had never been to a real festival – a canoe might be more useful!
9. Kanye West – Paper Bear
Proving merchandise is not the domain of dirty rock 'n' rollers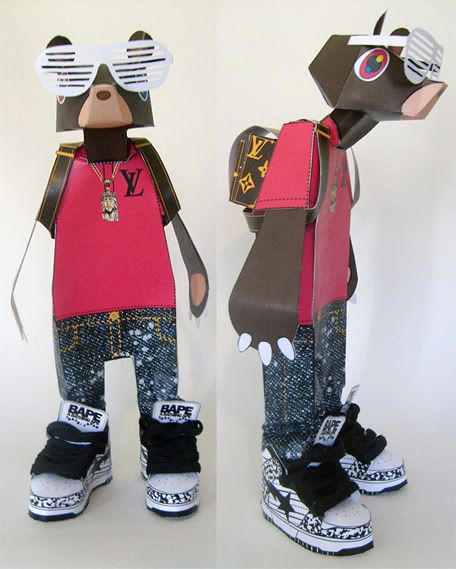 10. Dr Dog – Sunglasses
Sunglasses are an essential for any self respecting rapper, clearly US based Dr. Dog thought they were as equally essential for his followers.
11. Canibal Corpse – Graphic novel
Extreme death metal boys Cannibal Corpse promoted their 'Eviseration Plauge' album with a 96 page graphic novel, which included a CD copy of the album. Each album track had an accompanying story – Remember those old vinyl records to accompany Disney stories; bit like that I guess!
12. KYPCK – Gas Mask
Finnish doom metal pioneers KYPCK, who sing entirely in Russian promoted their 2008 ''Cherno'' album by producing KYPCK-branded Russian gas masks for sale, complete with nozzle, filter container and carry bag.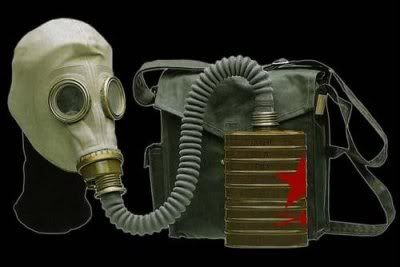 13. Justin Bieber – Shower Curtain
The irritating brat seems determined to worm his way into every aspect of our childrens lives. At $65 a pop, he won't be succeeding in my home.
14. Kiss – Coffin
Kiss are without doubt the leaders in band endorsed merchandise, from key rings to pinball machines and as of 2008 you could be laid to rest in a Kiss branded coffin; well only if you had the heart attack enducing $5000 for a signed version.
15. Rammstein – Sex Kit
Only the mighty Rammstein could have come up with this!! Released to coincide with the bands '
'Liebe Ist Fur Alle Da'
' album the box featured a selection of 6 Rammstein endorsed vibators, a pair of handcuffs, and a selection of interesting lotions… oh and there was a copy of the album thrown in as well. Despite the £250 price tag, the set sold out in a matter of days.
Not so chuffed with your Green Day T-shirt now eh….