GOAT ANNOUNCE LIVE
O2 ACADEMY BRIXTON DATE
WITH SPECIAL GUESTS:
THE MOONLANDINGZ, JANE WEAVER
& MORE
18:00 – Midnight, Saturday 29th July 2017,
O2 Academy Brixton, London
+++
On Saturday 29th July, London's Brixton O2 Academy will play host to the mysterious and heavily psychedelic masked Swedish band GOAT, who'll be joined on the evening by a number of very specials guests. After slots at Glastonbury and legendary headlining shows at Liverpool Psychedelic Festival, the band are back in the UK for their only headline date in the UK for 2017.
GOAT have been creating crazed psyche-rock and tribal infused beats for several years. The release of their third studio album Requiem in 2016 lead to a sold out tour, and succeeded to fuel the fire of their popularity, and spread the word about their shamanistic brand of musical voodoo.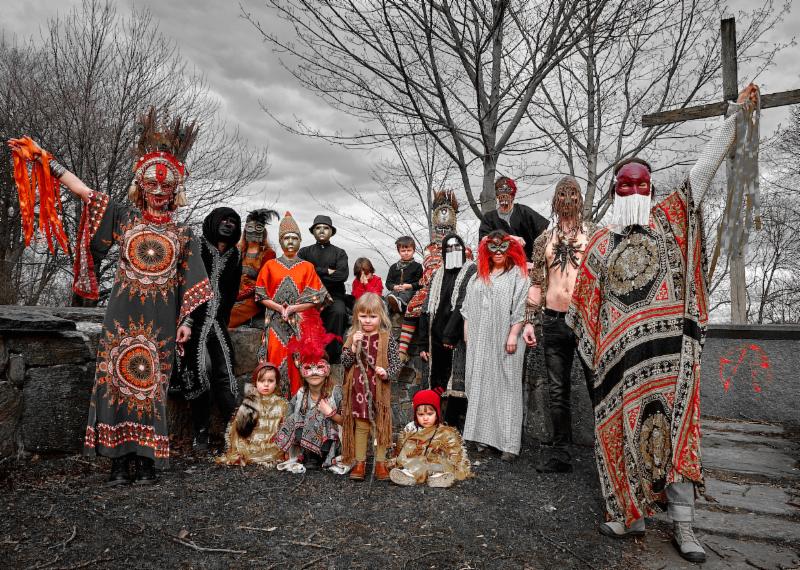 Amongst the special guests, The Moonlandingz will join GOAT on the 29th July. The Moonlandingz came to life as a fictional band from a fictional town, featured on the Eccentronic Research Council's 2015 concept album Johnny Rocket, Narcissist And Music Machine… I'm Your Biggest Fan.
Since they emerged onto the scene last year, the loose-knit London collective have gradually evolved into one of the most mind-expanding live experiences around, a thrilling fusion of power drill punk and brown acid psych, with their recently released debut album Interplanetary Class Classics receiving critical acclaim.
Jane Weaver will also be on board, a rare example of a passionate and resilient Northern female artist who re-creates, re-invents and refreshes where many others come and go. Her synth-pop psych and conceptual pop LPs have earned her a faithful fan base which has extended to a long discography of collaborations often released through her own musical "Woman's Institute" imprint Bird Records, which she runs with Finders Keepers Records in Manchester.
On the 29th July, Jane will perform tracks from her sixth studio album which is released this May, entitled Modern Kosmology, the project is the first time Weaver has taken uninterrupted recording time to finish an album start-to-finish and was recorded using all-analogue vintage machinery.
GOAT will be joined by a number of other acts to be announced at a later date.
+++
O2 ACADEMY BRIXTON
ADDRESS:
211 Stockwell Rd,
Brixton, London
SW9 9SL
TICKETS: