Jeffrey Lewis
'A Turn in the Dream Songs'
album review

Continuing our sweep-up of albums we may have overlooked in the past twelve months, Mark Ray has taken a look back at A Turn in the Dream Songs from Jeffrey Lewis.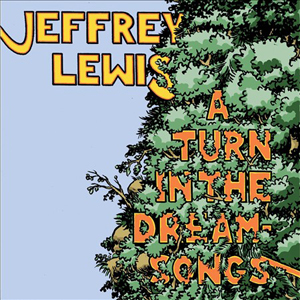 Jeffrey Lewis first entered my musical vista when a friend recommended his 2007 release 12 Crass Songs; an album that does exactly as it says on the tin. I would have feared a Nouvelle Vague type recording (not that I dislike Nouvelle Vague exactly, in fact I love some of their covers, but there's only so much of that kitsch easy listening take on punk/post-punk I can brook) but the friend who told me to bend my ear was an old punk compatriot who had loved Crass more than I did back in the day. And he was right "" both about the old punks back in the day and Jeffrey Lewis in 2007. Lewis updated Crass with his own anger and made me dig out my old vinyl and listen afresh to their anarcho-punk message.
Lewis is a purveyor of geek chic who, besides being a singer-songwriter, is also an underground comic artist. He is from New York; a colleague to Moldy Peaches and purveyor of anti-folk. He is a perfect example of how to survive in the music business on your own, low-fi, terms: when he goes on tour Lewis will ask on Facebook if anybody can put him up for a night or two. He is a Jonathan Richman for The 21st Century. But where Richman looks at the world with William Blake innocence, Lewis looks at the world with wit and love but is always aware of the blackness at the centre of it and, more often than not, the blackness at the centre of the world is himself. His musings are part hippy, part punk; two genres that have always been closer than either a punk or a hippy might admit. He comes across as a man with depressive tendencies who isn't afraid to air his fears and doubts; what stops it being self-piteous or maudlin is a sense of humour and a perfect turn of phrase that can encapsulate an idea with brevity ("mirror mirror on the wall/oh, come on, that's not me at all"). His voice is calm and warm, though coated in sadness.
At the end of 2011 Lewis released A Turn In The Dream-Songs, which, along with the aforementioned 12 Crass Songs and 2009's "˜Em Are I, ranks as a high point in his recordings.
Dream-Songs opens with 'To Go and Return', a hippy-trippy philosophy on how everything is connected and nothing lost, not even a wish sent out into the night-sky. 'How Can It Be' showcases just how good Lewis is at writing great hooks for great pop songs; it asks where romance all went wrong, and how exactly do you get over a lost love? 'I Got Lost' is perfect Lewis: grab a phrase and run with it. Again he wonders at what point in his life it all went wrong. Did he nod off when something important was imparted? Will he ever now catch up? 'Time Trades' offers advice to those knocked down by how time takes so much away: Lewis's answer is to do something that you can get better at, something that time will help you improve. That's the trade.
Then we come to 'Cult Boyfriend', perhaps the classic Lewis song. He compares his relationships to cult movies, bands etc.: "Suicidally alone or totally smothered…I'm lonely or I'm worshipped by a lady in the know/When you're a cult boyfriend life's always intense". This is the stand out song on the album and deserves to become a cult record itself ("A cult boyfriend's like a record in a bargain bin/no one knows it's worth till a collector comes in"): it perfectly keeps the balance between humour, bewilderment at the world, love lost and love gained, loneliness and please leave me alone!!
'Krongu Green Slime' is an example of an idea that Lewis sometimes stretches too far. It is a fun song about…well, it's about the best sort of slime available before the land before time in a time before land, when the world was just slime. It conjures up Weird Tales covers from the "˜50s, all garish colours and ooze. But at 6:06 it runs a little long even for a time before time. 'When You're By Yourself' is a melancholic meditation on the loneliness of the single diner: "sitting and eating and cleaning/so much to do just to eat by yourself".
The Jeffrey Lewis on this album is clearly a man who struggles with depression. Is it OK to laugh along with him? Are his songs a cry for help, regardless of how much wit and insight they are wrapped in? I, for one, hope he has good friends around him, because I look forward to many more releases from this New York depressive geek. Oh, and if he's playing in your area, why not put him up for the night?
A Turn in the Dream-Songs is available on Rough Trade Records and was released October 2011.