Flats
Saturday 2nd July 2011
Bladefest 2011, Leicestershire
For a band so young, Flats have generated an inordinate amount of media attention; from fanzines to the NME and on to the national dailies, they have had radio sessions with both Radio 1 and BBC 6 Music, and have signed to indie heavyweight One Little Indian Records. Press accolades have variously described them as being "the most important band since the Sex Pistols" and the "future of rock 'n' roll" "" they have also been described as "crap"
Now I had a chance to decide "" I'll be blunt; as they took to the Bladefest stage they didn't look capable of carrying a flag, let alone waving it as the banner of the new rock 'n' roll vanguard; however as the opening riff to their current release "Never Again" (7" only "" very rock 'n' roll) spewed from the PA it was clear that Flats when required can, and do step up to the plate.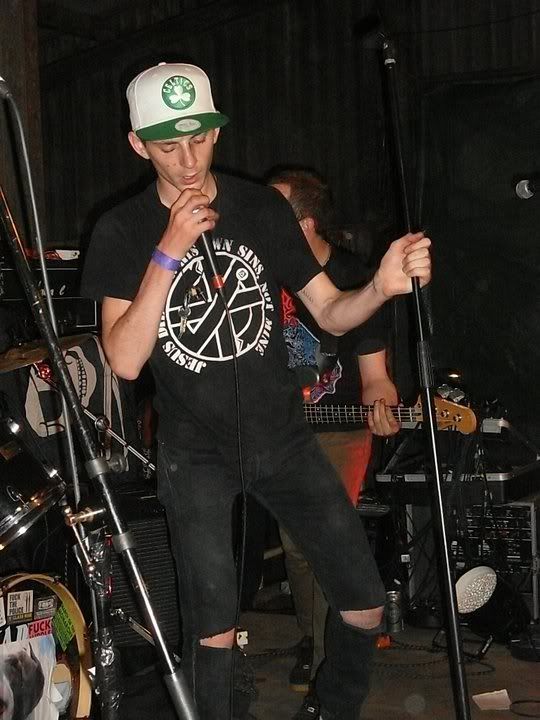 Front man Dan Devine appeared so out of it, it was a wonder he could recall his lyrics, but within seconds he was barking out a visceral guttural roar with such ferocity that only cemented his outspoken disdain for the so called accepted norms of rock'n'roll. Drummer Samir Eskanda is literally lost in a maelstrom of flailing sticks and hair, big hair "" he literally batters the kit as he drives Flats forward into a mash-up of speed metal (excepts its not), and anarcho punk that by the end of the second track has already divided the crowd; the majority have actually retreated from the stage before retreating further and heading for the door.
Such is the intensity of Flats "" this is real primal stuff, no compromises, no concessions, its Flats against the world "" I have no idea what their message is, there is no way of deciphering the lyrics, but you can bet it isn't warm and cuddly. For those that remained or endured "" we were treated to a full tilt set lasting just 25minutes; apparently their entire repertoire runs to just five minutes more, but hey playing live allows a band to play with just that little bit more vigour!
Flats don't so much present you with a challenge; they are a challenge in themselves "" the punks don't seem to keen on them, the indie kids don't like them "" maybe even at this early stage in their history its time for a reappraisal, Flats appeal is their very rawness, its their ability (contrived or otherwise) to confuse, and to confound that merits your attention.
Flats are more than the hyperbole that surrounds them, that side of things is tiresome, I don't care a jot who Devine's father is – the tales of narcotic abuse; that's a lifestyle that certainly wouldn't get my approval "" but on tonight's display, Flats do live up to the furore that currently surrounds them.
Catch them now; I doubt they will be around for too long "" such levels of anger and intensity can't be naturally maintained indefinitely, and that's the concern; Flats will have screamed themselves silent by the time the rest of the world catches up.
They may well be the spark, the catalyst to a new punk scene"¦ wouldn't you prefer to have seen the instigators rather than the followers?
Flats play at Sonisphere Saturday 9th July 2011